Precision Fitness Client of the Month: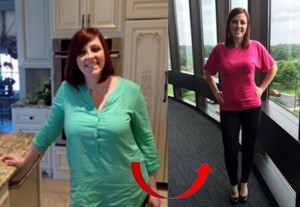 Meagan Barron
During my 2nd pregnancy I had made the decision that I was going to not only lose the baby weight, but also that I was going to try to get into better shape.  During both pregnancies I gained around 60lbs each time, after the first pregnancy it came off pretty easy and I lost almost all of my baby weight.  After the 2nd, it wasn't so easy.  At that time, I reached out to friends and was recommended to Dustin and Precision Fitness.  I took a leap of faith and joined only 10 short weeks after giving birth.
I have never been that person who loves to work out, to be honest, I hated it.  Working a full time job, having 2 children 2 and under and having a husband who works super early mornings it's just not easy for me to find the time to do it.  However, I knew that I wasn't happy with my post baby body and I wanted to get back to "normal", actually better than "normal".  I have been with Precision Fitness now for 3 months and I cannot tell you how much I love it.  I enjoy working out now!  I have lost 30lbs since joining and am within 15lbs of my goal weight.  I love that each workout is only 35 minutes and I still feel accomplished after.  I have almost become obsessed with exercising, I feel like I can't miss a day.  Dustin is very good at what he does and motivates me to push myself.
I hear from a lot of people that they don't have the time to exercise, but if I can do it, you can too.  I live in Fayetteville, but work in Lowell; therefore, I recruited my Mom, who lives in Rogers, to watch my children while I work out.  So after picking my children up from the babysitter, I drive immediately to my Mom's house drop them off and drive to Precision Fitness.  After workout, I drive back to my Mom's, pick up my kids and drive home to Fayetteville and by that time it's almost 7pm.  Most nights after workout I don't even take my shoes off until right before bed because I am so busy getting the kids ready for bed, baths, dinner, etc. as well as doing household chores, like laundry, dishes, and ironing.  This may sound hectic, but because of the way I feel about myself after joining Precision, I wouldn't change it at all.
I still have a lot of work to do on toning my body and I have in my mind what I want to look like, whether that is attainable or not, I am not sure, but I have full confidence in Dustin to help me reach that goal.