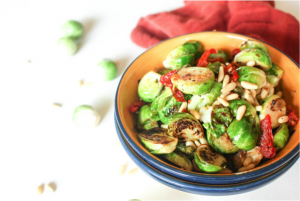 INGREDIENTS:
– 1 tablespoon coconut oil
– 1 lb. Brussels sprouts
– 2 cloves garlic, minced
– ¼ cup thinly sliced sun dried tomatoes (packed in olive oil)
– pinch salt
– pinch red pepper flakes
– pinch pepper
– 1 tablespoon capers
INSTRUCTIONS:
– Heat the olive oil in a large skillet over medium heat.
– Once the oil is hot add in the brussels sprouts, cut side down.
– Cook until browned, about 7-10 minutes.
– Stir and add in the sun garlic, sun-dried tomatoes, salt, red pepper flakes, and pepper, Sautee for another 3 minutes.
– Remove from the heat and stir in the capers.
– Serve [Credit: CatchingSeeds.com]