If you're someone who often enjoys a smoothie as part of your day, you can use this as a great opportunity to increase your dietary fiber intake and get more of this vital nutrient in.
Many people are currently falling short in their dietary fiber intake and by adding a smoothie to your day, you can easily get your needs met.
Let's go over a few simple yet highly effective ways to boost your dietary fiber intake with that morning or afternoon smoothie that you're whipping up.
Add Flaxseeds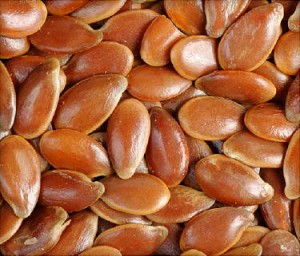 The very first way to get more fiber into your day is to add some flaxseeds into the mix. Flaxseeds are not only a great way to boost fiber, but they'll also supply you with more protein as well as more omega fats as well.
Flaxseeds can be ground up so you'll hardly even notice them in there.
Use Blackberries Or Raspberries
Moving along, when it comes to your fruit of choice, opt for blackberries or raspberries most often. These are two fruits that are loaded with fiber, so will best boost your intake while also providing a terrific source of antioxidants as well.
Add them fresh or frozen – the choice is yours.
Add Some Ground Oats
If you need a higher calorie shake and want to get some carbohydrates in at the same time, consider adding some ground oats. These are a complex source of energy that will break down slowly, helping you avoid a blood sugar crash. With them ground right up, you'll hardly notice them in there.
Just be sure to get the ones without any added sugars or sweeteners.
Add In Some Spinach
Finally, the last way to quickly boost the fiber intake of your smoothie is to add in some spinach. Spinach is a very good source of nutrition and will not only add fiber but iron, potassium, vitamin C, vitamin E, along with many other nutrients that your body needs.
While it will alter the color of your smoothie slightly, it's one of the healthiest additions that you can make to your beverage.
So there you have the top tips to know if you want to increase your dietary fiber intake through adding select ingredients into a smoothie. Smoothies are a perfect way to get your nutrition intake up, so be sure that you are making good use of them.